VonneyVoom

live band
AGENDA
BIOGRAFIE Vonney
REPERTOIRE & AUDIO Vonney
HYVES maar niet heus
VONNEYVOOM Live
Tina Turner / Anouk
YOUTUBE pict. video
KRANTENKNIPSELS Vonney
TEKSTEN - LYRICS by Vonney
EIGEN WERK / OWN STUFF
REFERENTIES & REACTIES
Gastenboek / Guestbook

Optie / Boeking plaatsen?

Tel./Faxnr.; 040-2548651

of 06-51510342

Live-band VonneyVoom!

De band brengt

&

en WAS ook te boeken als TINA TURNER revivalband

( set van 1 uur ),

eventueel uit te breiden

- inclusief een pauze van 30 minuten -

met een 60 minuten durende set met covers van zangeres ANOUK.

Dance, Soul, Funk, Rock etc......!

Vonney Voom was a band build around Yvonne who has appeared

many times on TV with her tributes of Tina Turner etc.

When Yvonne sings with a couple of her nieces on a family party

in the year that she became 17, she would have never expected

that singing was going to be dominating her further life.

After a number of solo projects and competitions she became

the full time professional singer of a professional band.

At the moment the band, now named VOOM!...???,

is fast becoming a popular band in the party circuit.

Their aim is to entertain the youngest member of their audience

as well as the oldest guest.

Together with a good light and sound system

they succeed in their task and leave their guests satisfied

and if they want to, tired from dancing.

Vragen over het repertoire?

V

erzoeknummer / Request?

Stuur een e-mail naar;

of bel!!!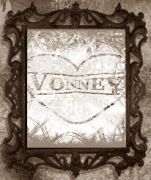 zangeres / singer
© 2013 Yvonne